---
'Ari' Zoto Marks First Year Rebuilding Traditions At Pizza Palace
---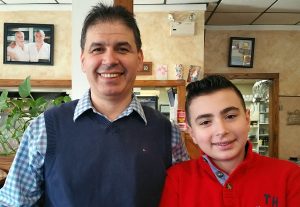 When Aristotel Zoto relocated to Newtown from his native Greece more than two decades ago at age 17, he was taken in by Jimmy and John Antonopoulos, who were the popular owners of the Newtown Pizza Palace at 65 Church Hill Road.

"These were not even my blood relatives, but they treated me like their own son," Mr Zoto recently told The Newtown Bee.

And like members of many, many Greek families, Mr Zoto immediately found himself working his way through college, and earning his tuition in the family's restaurant where he quickly advanced to become head chef. He remained in that position for 18 years, during which he met and married his beloved Doriana, and celebrated the birth of their two children, daughter Elisia and son Brendan.

Several years ago, when the Antonopoulos brothers took a stab at retirement, Mr Zoto decided to explore other opportunities and became the manager of the Friendly's restaurant at the Heritage Village complex in Southbury. In the space of just over a year, he excelled far beyond the skill set he displayed in the kitchen at Pizza Palace by propelling the Friendly's location to award-winning status.

"The store and our staff took every company honor — for best labor force, cleanliness, customer satisfaction, food quality, and budgeting," he said. "Even today you can walk in and see all the awards, including several presented by the company CEO."

But when he learned that Pizza Palace was experiencing its own kind of growing pains under a succession of owners who followed the Antonopoulos brothers, and that they were inclined to take back the helm, he made an offer to acquire the then struggling restaurant himself.

"This used to be the best place in Newtown, but even its Google Business ranking went from one of the highest to one of the lowest in town," he said. "It hurt me personally, as well as Jimmy and John and their families, who had worked for so many years to make it a top-quality place."

Mr Zoto said as soon as the brothers retired, subsequent owners began changing recipes, downsizing the menus, and upping the prices, ultimately taking a toll on the restaurant's long-tenured and loyal customer base. So upon taking over the business on March 28, 2016, Mr Zoto revamped the menu and restored a number of the most popular dishes, reverting to the old established recipes and the freshest quality ingredients.

"Now our old customers, and new ones, are coming back in huge numbers for the Chicken Francaise, Chicken Scarpariello, Shrimp Milanese, our Seafood Lovers zuppa de pesce, and our pasta dishes," he said. "And all my newer friends from Heritage Village and Southbury are coming here all the time."

The new and updated menu continues to expand, with Mr Zoto vowing to add 15 more fresh salad variations by springtime.

His commitment to quality and good taste means all the Pizza Palace antibiotic-free chicken and seafood dishes are served with fresh and never frozen meats. And midday patrons can enjoy a free soup with any platter, burger, or wrap purchase between 11 am and 4 pm.

Pizza lovers can enjoy new creations including a specialty pie invented by his daughter, aptly named "Elisia's Pizza" featuring ricotta cheese, spinach, avocado, tomato, and fresh mozzarella.

Besides his immediate and extended family, Mr Zoto, who is Albanian by birth, is proud to be welcomed back so warmly by new and established patrons, some who travel some distance to enjoy his food, and others who take it upon themselves to share it far beyond the Newtown market.

"I recently had a guy who had me make five pizzas, which he picked up on the way to the airport and flew to some former customers in Miami," he said. "I also have a couple who stops in once a month from Boston, and a group who comes in every week from down in New Rochelle, New York."

Mr Zoto has one simple promise, no matter where his guests come from, or where they take his food to go: "No one leaves this place unhappy."

"I came to Newtown when I was very young, and I am so thankful to everyone in town for all their support all the years I was here, and since I came back," he said. "I am so grateful to have family here, and I want to say how much I appreciate and love the United States. I'm from Albania and grew up in Greece, but I really believe in my heart this is the greatest country in the world."

All dough, soups, and sauces are made daily on the premises, and Pizza Palace offers generous portions at affordable family-friendly prices.

To inquire about Pizza Palace specials, catering consultations, or to order out, call 203-426-6114, or visit pizzapalacenewtown.com.
Published: March 3, 2017 John Voket